Darwell Reservoir lies in the north-west corner of the parish.  It covers around 156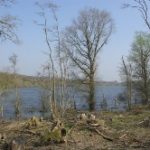 acres (63-4 hectares) and is just over a mile long.
Work began on its construction in about 1937 and was completed in 1949, when it was officially opened by the Duke of Norfolk.  When it was filled, 9 cottages, including Birchford Cottages, Darwell Furnace Farm and the cottages associated with it, were lost.  A pipeway laid in the 1980s takes water to Beauport Park to supply Hastings.
Darwell Reservoir is surrounded by ancient woodland, including the Darwell Wood Site of Special Scientific Interest (SSSI), a broadleaved woodland of 92.9 acres (37.6 hectares), which is dissected by streams draining into the reservoir from the north.  The wood supports a rich variety of breeding birds, including woodcock, green woodpecker, sparrowhawk and tawny owl.  It is also one of the few places in the UK where nightjars are regularly seen.
Cranbrook and District Angling Club has exclusive fishing rights at the reservoir.  It is known to hold pike over 30lb, perch over 4lb and eels to 8lb.  The largest "reported" carp caught was a 15lb common carp.  Roach reach 2lb and a few brown and rainbow trout remain.
Click here to view the present fill level at Darwell Reservoir.