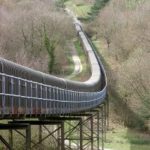 For many people outside the parish, the terms "Mountfield"
and "Gypsum Mine" are synonymous.  We all know there is much more to Mountfield than gypsum mining, however, we must concede that it continues to play a significant economic and social part in parish life.  The discovery of gypsum (calcium sulphate) in Mountfield in 1872 came about by change, the target of borings was coal.  In its natural state gypsum is a rock found in seams, which are several feet thick and crushed into powder, in fact it is mined in a similar way to coal.
The Sub-Wealden Gypsum Company Limited was formed on 10th May 1876 and mining started with the sinking of a shaft in Limekiln Wood.  Progress was initially slow because of the isolated position, until a railway link had been constructed to the main line at Robertsbridge.  Gypsum mining then developed into the largest industry in the area and gypsum continues to be in great demand by the construction industry to make plaster and plasterboard.
During the 1890s the mine's workforce rose from 15 to 27 underground and from 22 to 60  on the surface.  However, despite increased production the value of gypsum did not rise proportionally and this probably lead to the winding up of the Sub-Wealden Gypsum Company.  After a short stoppage in 1906-7, during which working methods were thoroughly overhauled, mining resumed on a larger scale.  Production rose again after the Second World War and the winding shaft was replaced with a sloping adit and an electrically operated railway system.  In the early 1950s a second, larger mine opened in Brightling.  Because of the scenic value of the surrounding countryside and the unsuitability of local roads for heavy freight, the two mines were linked by an overhead cableway.  This allowed gypsum from the Brightliing Mine to be taken to the processing plant at the Mountfield Mine.  The cableway was subsequently replaced by a covered conveyour belt system.
Today the mines are extensive and several times larger than the 6' by 7' tunnels of earlier years. Modern day miners travel underground by Land Rover.  There are probably another 20 year reserve of gypsum remaining - the Brightling Mine has a mining capacity of 1 million tonnes per annum (mining at Mountfield was abandoned in 1990) and the Mountfield/Brightling reserves, mined by British Gypsum, are the largest in the UK.
Mountfield Parish Council and the Mounfield Community would like to thank British Gypsum for their continuing support and generosity.  Over the last few years, they have undertaken
Support in the construction of the new King George's Field pavilion.
Repair of the Twitten.
Installation of our new noticeboard in New Cut.
Installation of the defibrillator at Solomons Lane/Hoath Hill.
Complete refurbishment of the playground swings.
The image of All Saints is copyright Mark Duncan  and is licensed for reuse under this Creative Commons Licence.