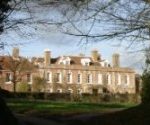 Mountfield Court (or Court Lodge) was built around 1715 by James Nicholl JP, then Sussex High Sheriff.  On his death it passed to his cousin, John Nicholl, who became a Baron of the Cinque Ports.  The property stayed in the Nicholl family until about 1865 when it was acquired by Edward Christopher Egerton, Under Secretary of State for Foreign Affairs, and whose descendents still live there.
The service wing was built in 1762, the single storey drawing room extension was added to the east end of the building by Lady Mary Frances Egerton.
Mountfield Court has extensive "park style" grounds, a walled garden, fine views and an avenue of ancient chestnuts lining the drive, which unfortunately took a battering in the hurricane of October 1987.
It continues to host meets of the East Sussex and Romney Marsh Fox Hunt and opens its gardens in aid of St. Michael's Hospice.