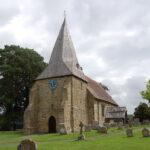 Every visitor to All Saints, Mountfield, is struck first of all by the beauty of its position, its views of fields and woods across the valleys either side and then by the modesty of this little church.  It does not try to impress visitors with its grandeur nor dominate its surroundings. Instead, it appears to be a natural part of the countryside from which it springs.  As you walk into the church, this quality of modesty and simplicity is reflected inside.  The proportions are just right and even on dull days there is plenty of light.
Amanda Helm, The Parish Church of All Saints, Mountfield - A Guide 2004
The Parish Church of All Saints, Mountfield, dates back to the early 12th century,
although it is possible that a wooden structure was on the site prior to 1066.  It remains essentially a Norman building.  The chancel and nave were built first (c1107-1124), followed by the tower (c1180-1200). Some of the original windows survive, others were inserted in the 13th, 14th and 15th centuries. Of particular note is the large Norman font (the second largest in Sussex) with 16th century decoration.  The paintings on the chancel wall date from the 12th century to the 16th.  Entry to the church is through the 14th century porch on the south side.  The clock was installed in the tower in 1905 in memory of Lady Mary Egerton.
A much commented-on feature is the modern East Window, a gift of the Egerton family in 1972. The scene in the lower half depicts a view of the valley in cross section from the west, showing Mountfield Church on its hill on the right and Mountfield Court on its hill on the left, complete with a tractor ploughing.
The oldest stone in the churchyard is inscribed "Robert Startup, Innkeeper, Sept. 29th 1705, aged 77 years 10mos" and the registers start in 1558.
For more information about the history of All Saints, a chronology and its architecture, plus a "Little History of Mountfield," you need the Parish Church of All Saints, Mountfield: A Guide by Amanda Helm.  To get a copy of this booklet, the proceeds of which go to maintain All Saints and its churchyard, you will need to visit the church.
The image of All Saints is copyright Julian P. Guffogg  and is licensed for reuse under this Creative Commons Licence.